What Can We Learn From Louis Zamperini?
For many, the 4th of July means barbecues, picnics, flags, parades, and fireworks. While all of that is fun and enjoyable, it is important to remember the deep meaning of July 4th: independence and freedom. From the birth of our nation, men and women have fought and died to protect our freedom and independence. In addition to July 4th, they should be honored and thanked every day of the year for their sacrifices and courage.
Today the ones who fought for our freedom and came home still live with battle wounds and scars of all kinds -including the invisible wounds of post-traumatic stress.
In fact, on Independence Day, many experience challenges by fireworks triggering post-traumatic stress.
This is a heart-stirring reality: the ones who fought for our freedom to celebrate often suffer on the day which celebrates hard-fought freedom!
Let's work together and help make this Independence Day a little better for our heroes.
Let's remind them that we appreciate them and have not forgotten them. Please take advantage of our various tips to help everybody remember our heroes this 4th of July.
Some heroes may look strong on the outside yet on the inside may be on the edge of despair this year.
That's why it's urgently important for us all to do our part to reach out and encourage veterans' hearts, share God's love, and honor them for their service. After all, without them, we would have no Independence Day to celebrate.
This month's edition honors the life and legacy of U.S. Olympian and WWII veteran Louis Zamperini.
He survived a plane crash, was lost at sea for 47 days, and he was tortured in a horrific Japanese prison camp. His captors tried to destroy him. One guard called "the Bird" was focused on beating Louis and constantly tormented him. He was tortured for two years. By the end of his imprisonment, Louis weighed a mere 65 pounds.
Somehow Louis survived and returned to the US after the war ended. While he recovered from his physical wounds, his invisible wounds from post traumatic stress tormented him for years. He suffered from nightmares because of "the Bird" and he turned to alcoholism. He sought psychological treatment but nothing helped. He progressively got worse. Louis was broken.
But then one day Louis encountered the life transforming power of Jesus Christ which changed his life forever.
And he was healed! He came to Jesus at a Billy Graham crusade. We are thankful for his transformation! (We know that the Lord can suddenly bring healing like he did for Louis Zamperini but He also works through other ways and means, too. His ways are higher than our ways.) Through the power of Jesus Christ, Louis forgave "the Bird" and he never had the nightmares again. Louis became unbroken! Click here to learn how you can know Jesus, too.
Ultimately, Louis felt called to return to Japan to face his captors once again. This time he visited a prison that housed Japanese war criminals. He encountered many of his former captors and shared about the Gospel of Jesus Christ; he shared that he forgave them, too.
Louis spent his life reaching out to others to share the Gospel and to bring encouragement especially to those suffering and to fellow veterans. We all need to learn from Louis Zamperini's story for ourselves. Please take time to read about Louis Zamperini and watch his interviews below. You will be moved and inspired!
In conclusion, this Independence Day let's be like Louis and reach out to others. Let's remember our nation's heroes in a special way this year! Let's love them like Christ loves us.
Let freedom ring,
Carrie Stoelting and Stacie Stoelting Hudzinski
MISSION: Thank 4 Heroes by July 4th
Make this a goal and use these easy tips
to thank at least four of our nation's heroes.
1. For July 4th, many veterans and servicemen and women march in local parades.
A good time to reach out and thank them is after the parade. Watch for their military distinctions on their jackets and hats. Just earnestly thank them. They will appreciate your appreciation.
2. Be sure to set aside time to thank our heroes.
Visit in person or pick up the phone and call someone who served. Text them. Direct message them on social media. Reach out and let them know you are thinking about them and appreciate their time of service. In an age of technology, personal connection like a phone call or an in-person visit can mean a lot. A personal touch and the gift of time
are tremendously meaningful.
3. If you have young children or grandchildren, make thank you cards together and send them to those who've served.
That's a wonderful way to show appreciation to our nation's heroes and to teach the next generation about why we're grateful for their service.
4. Don't forget our hospitalized heroes or elderly veterans in nursing homes.
Send a colorful card, send a gift, or stop by and visit. Note:
In God We Still Trust
and
Unite the USA
make great gift ideas! :)
5. Invite a veteran to dinner, send a gift card to their favorite restaurant, or order/deliver a meal for them through DoorDash.
Take him or a her a gift. Just do something to show that you care and that you are grateful for their service.
Louis Zamperini: Captured By Grace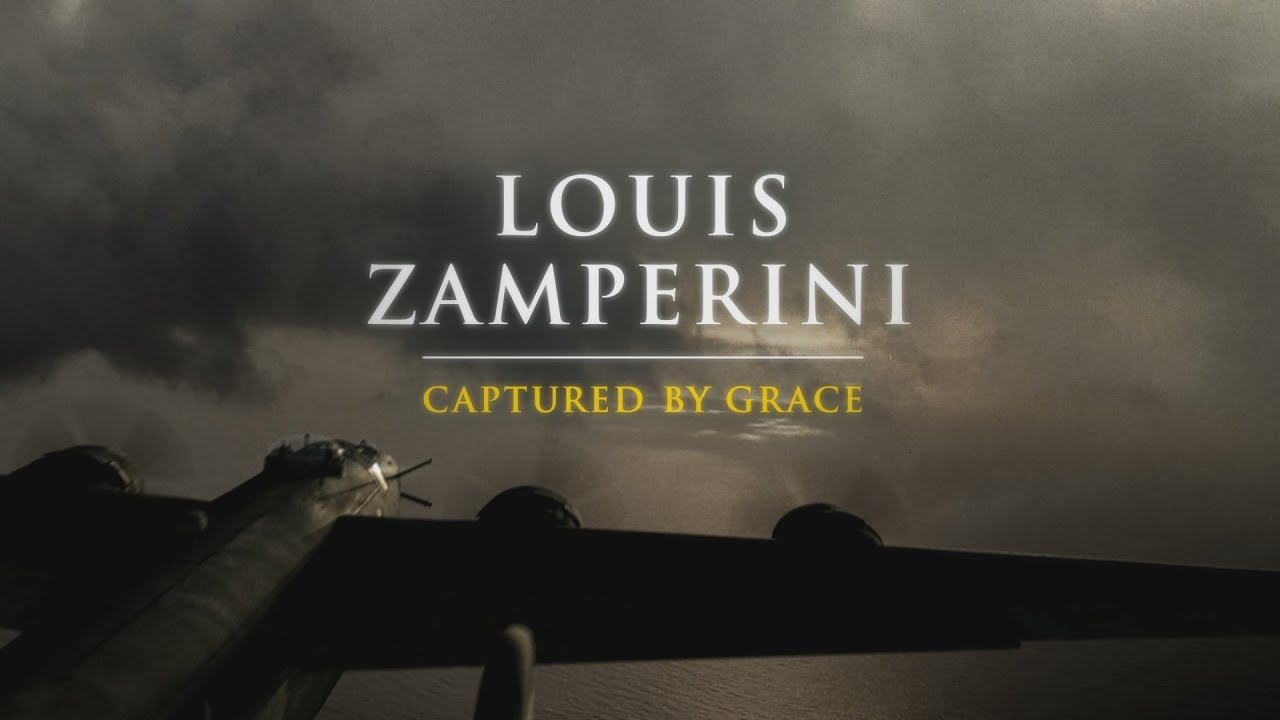 He survived a plane crash, was lost at sea for 47 days, and was brutally tortured in a war camp. After his return from WWII, Louis Zamperini was tormented by the memories of what he'd experienced; Post-traumatic stress led to depression and alcoholism. With hope rapidly fading, Louis went to the 1948 Billy Graham Crusade in Los Angeles and had a truly life-changing experience. Hear it from Louis himself in the program Captured By Grace.
"Whosoever shall call upon the name of the Lord shall be saved," so I took Him at His word, begged for His pardon, and asked Jesus to come into my life."

-Louis Zamperini
, U.S. Olympian and WWII war hero
Unite the USA's
Featured Veteran of the Month:
Louis Zamperini
Louis Zamperini, U.S. Olympian and WWII war hero
(1917-2014)
Louis Zamperini: How He Came to Christ
By Mark Ellis
He ran for his country in the Berlin Olympics of 1936. During WWII, his B-24 crashed in the Pacific and he barely survived 47 days adrift on a raft. Picked up by the Japanese, he spent the remainder of the war in a P.O.W camp, where he endured horrible abuse at the hands of a prison guard nicknamed "The Bird."
After the war, he met and married the girl of his dreams, but post-traumatic stress disorder threatened to destroy his marriage. All the while, he dreamed of a return to Japan to hunt down and kill the former guard who tormented him.
"I had nightmares every night," says Louis Zamperini, the subject of Laura Hillenbrand's bestselling book "Unbroken." The nightmares followed Zamperini home like a crazed hound from hell. "No one knew about it, because I looked perfectly normal," he says. "I covered it up by drinking."
His wife Cynthia suspected something was terribly wrong, because Zamperini often woke up in a cold sweat, shouting. One night he dreamed he was strangling The Bird. In fact, he was on top of his pregnant wife with his hands around her neck, choking the life out of her. "I woke up and couldn't believe it," he says.
His life spiraled downward as he began to chase other women at local bars, where he and his Olympic buddies often got free drinks. "I began to fall apart," Zamperini recalls. "My wife decided she wanted a divorce."
About that time, a new couple in their apartment building talked about a young evangelist preaching in a large tent in downtown Los Angeles. "In those days 'evangelist' was a dirty word because there were so many crooked ones," Zamperini notes.
The young evangelist preaching in a tent
The young evangelist was Billy Graham, the object of William Randolph Hearst's famous order to his news editors — "Puff Graham" – that led to 10,000 people jamming the tent each night. Cynthia went with the couple to hear Graham, but Louis refused to go. When Cynthia returned home after the event, Louis immediately noticed something was different.
"She started speaking of a peace and joy in her heart," he recalls. Still, Louis stubbornly resisted her invitation to hear Graham. "She knew that to save our marriage I would have to be converted."
Despite her appeals, Louis continued to dig in his heels. "I wanted no part of it."
But then Cynthia said something that got his attention. "Because of my conversion I'm not going to get a divorce," she announced.
The next day Cynthia was all over Louis again, and this time he relented. "Ok, Ok, I'll go," he said. "But when that fella says, 'Every head bowed and every eye closed,' we're getting out of there."
That night, Graham spoke from the eighth chapter of John about the woman caught in adultery. "He began to preach and quote scripture that reminded me of my life," Louis notes. Still, his heart was hardened. At the end of the message when Graham asked people to bow their heads, Louis grabbed his wife's arm and bolted from the tent.
As they got in their car, he said, "Don't ever get me back in a place like that again."
Louis suffered a fitful night's sleep that night, with more nightmares about The Bird. The next morning, Cynthia was just as firm in her resolve that a change in Louis's heart was the only possible way to save their marriage. She went after Louis again and convinced him to go back a second time to hear Graham. Louis warned his wife, "If he says 'every head bowed and every eye closed,' we're out of there."
This time, Graham spoke about why Christians suffer and why God seemed to allow communism to flourish. At the end of the message, when Graham asked people to bow their heads, Louis got up to leave. As he moved to the end of their row and stood in the aisle, he hesitated and stopped.
Something Graham said about people "at the end of their rope" who turned to God triggered a flood of memories. He thought about his ordeal in the Japanese P.O.W. camp, when he and the other men prayed daily. He promised God then 'If you get me home alive I'll seek you and serve you.'
Likewise, his mind returned to his suffering on the raft. "On the raft we were at the mercy of the elements on the ocean. I came back alive. God kept his promise," he realized, but he had not kept his part.
"What a heel I've been," he muttered to himself.
A softened heart
Instead of heading for the exit door, Louis turned and walked toward the prayer room. There, he fell to his knees and gave his life to Christ. "The Holy Spirit came into my heart and I became a member of the true church, the Body of Christ."
Something unusual happened as he knelt humbly before God. "When I was still on my knees I forgave all my guards, and I knew I was through smoking, drinking and chasing women."
That night his nightmares stopped abruptly. "The miracle that happened," he says, "it was the first time in years I never had a nightmare. I haven't had one since.
Zamperini rummaged through their apartment the next day. He tossed out all the liquor, cigarettes and girlie magazines hidden in various places. He dug out his WWII Bible, walked to a local park and began to read. "I got to the crucifixion and I started crying like a baby."
He left the park and hurried back to see Cynthia. "A miracle has happened in my life," he said excitedly.
"The same miracle happened to me," she said. "That's the miracle of conversion — it happens the moment you believe!"
The following day Louis found Billy Graham and Cliff Barrows and told them about the marvelous change that happened. "I was bubbling over with joy," he recalls. Louis insisted, however, they would never get him up on a platform talking about his faith.
But God had other plans. "The next day Cliff Barrows gave me a train ticket to Modesto." Zamperini boarded the train and headed for his first participatory Graham event, where he shared about his newfound faith. "I only knew two or three scriptures," he admits. "Since then I've been on platforms all over the world."
Zamperini notes that one of the reviewers of "Unbroken" faulted the book in one respect: "He couldn't understand how someone with post-traumatic stress disorder could get over it in a moment."
"The reviewer didn't know the scripture," 'If any man be in Christ he is a new creation. Old things have passed away and all things become new.'"