Pray for Our Troops and Veterans
Be prayer warriors for our warriors. Prayer is powerful and our troops need your prayers. Make a habit to pray for them daily.
"First of all, then, I urge that supplications, prayers, intercessions, and thanksgivings be made for all people..." -I Tim. 2:1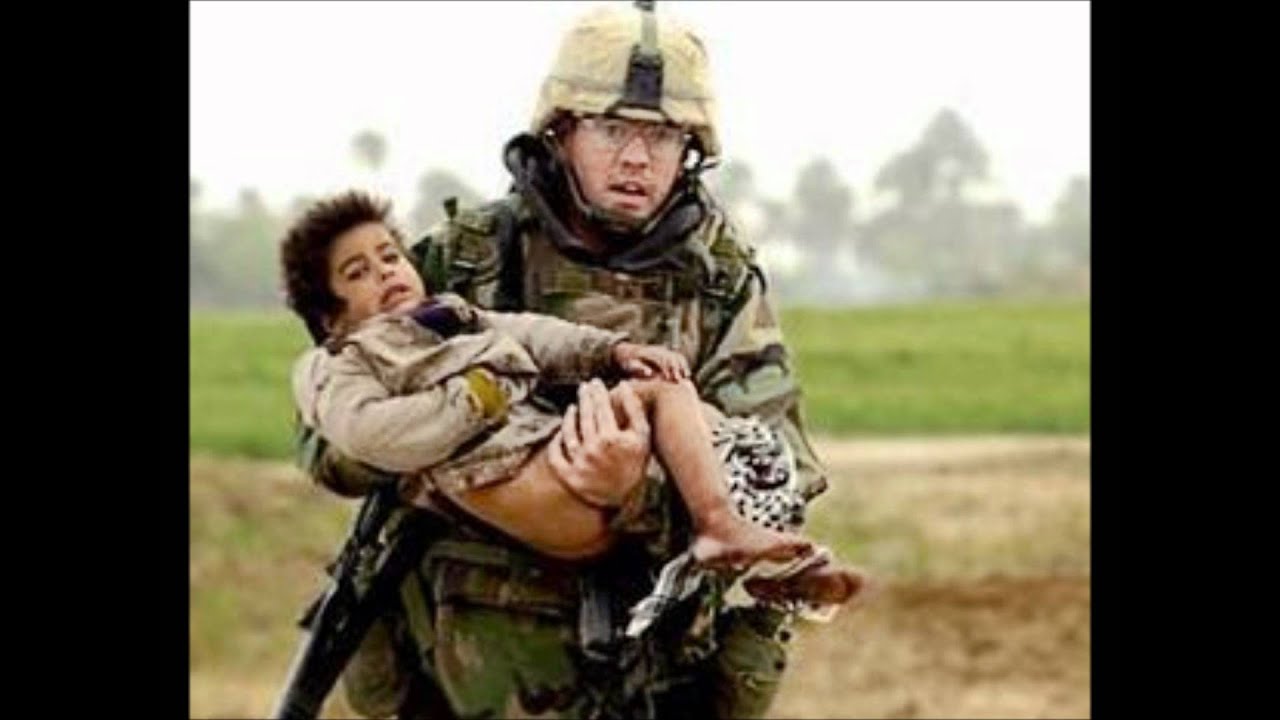 Listen to Stacie and Carrie sing
While There's Time.
Thank our veterans while there's time! About 1,000 WWII veterans die everyday. Let them know that you are grateful for their service and your freedom. Listen to this song in tribute to our heroes from our album,
In God We Still Trust
.
By Carrie and Stacie Stoelting
Navy SEAL Mike Monsoor and his two teammates climbed to rooftop positions during a firefight in Ramadi, a Sunni insurgent stronghold west of Baghdad. Suddenly, an insurgent grenade bounced off Monsoor's chest. It landed on the roof.
Monsoor looked at it. He had two choices: escape and live yet watch his two comrades die or die in their place. I'll let President Bush's speech reveal what happened as he quoted one of the survivors:
"'Mikey looked death in the face that day and said, 'You cannot take my brothers. I will go in there instead.' In that terrible moment, he had two options-to save himself, or to save his friends. For Mike, this was no choice at all. He threw himself onto the grenade and absorbed the blast with his body."
He chose to stay. They lived. He died. He died for his comrades, but -ultimately- he died for his country.
Countless men and women like Mike Monsoor have willingly given their very lives for us. Over 1,343,812 brave Americans have died in military service. There have been over 1,145,523 wounded and 38,159 MIAs. Clearly, freedom is not free - it has a high price.
But, the men and women who willingly served their country knew very well that they may not return home yet they still boldly served.
Throughout American history, the U.S. military has ensured and protected freedom. In our own country, a strong defense has kept our country the land for the free for over 200 years.
Honor the memory of those who have given their lives to keep us free. Thank our veterans and current servicemen and women for their hard work and tireless efforts to protect freedom. Our heroes know that freedom is worth it. They've seen tyranny and the consequential pain and disparity and that further emboldens them to fight for freedom. One such hero was Glenn "Mac" McDole:
In 1940, McDole enlisted in the U.S. Marine Corps. On August 12, 1942, he bravely entered the Palawan prison camp in the Philippines.
Two long years later on December 14, 1944, Japanese soldiers slaughtered about 93% of American POWs. The Japanese lied. They announced false air raids to move prisoners into underground shelters. Then, they mercilessly poured gasoline on top of them and used dynamite and machineguns to murder the POWs. Our brave soldiers were slain by evil, blood-thirsty hands. They died a hellish death for our freedom. Yet McDole escaped.
Amazingly, Glenn McDole was one of eleven young men who escaped. He was the last man out of the Palawan Prison Camp 10A. McDole and the ten other survivors dug into refuse piles, hid in coral caves, and slogged through jungle and swamps to safety. The horrifying conditions suffered by McDole and his comrades were endured for America's freedom - our freedom.
During World War II, Japan captured thousands of American soldiers like McDole as prisoners of war (POWs). They were held captive in camps from Burma to the Philippines. The Japanese treated all captives with the same distain: starvation, disease, beatings, torture, and even execution.
McDole was one of eleven survivors of Palawan Prison Camp 10A (located on a remote Pacific island) and he lived in our home state: Iowa.
Clearly, POWs such as Glenn McDole strongly value freedom. They know from experience what it was like to live in bondage. They know firsthand what it is like not to be free.
As proud Americans (and Iowans) we'll always be proud of Col. George "Bud" Day, a native from Sioux City, Iowa. He was a retired U.S. Air Force Colonel and Command Pilot who served during the Vietnam War. His years of service include five years and seven months as a Prisoner of War in North Vietnam. He was the most decorated U.S. service member since General Douglas MacArthur. Col. Day received some seventy decorations, a majority for actions in combat. In addition, Col. Day was a recipient of the Medal of Honor and the Air Force Cross.
Yes, Col. Day was a remarkable man and one of America's greatest heroes. We had the great honor of meeting him - an experience we will always treasure. Col. Day deeply loved his country and freedom. He solidly believed in the U.S.
Constitution and freedom. But, Col. Day would have been the first to tell you that complete freedom comes from knowing Jesus Christ Who set us free from sin and death. (
Click here
to learn how to be set free.)
We live in the land of the free because of the brave. God bless our veterans and our servicemen and women!
Dear Lord,
Thank You for our country. Thank You for being ever-present. Thank You for going ahead of us and taking the sting out of death.
Right now, we look to You. We look to Jesus, Who took the blows for us and died in our place. We accept what He did on the cross for us and that He conquered death and evil; that He rose from the dead for us.
We confess our sins and realize we really need Your help. We turn from our sins. We turn to You. We pray that You would draw our families close to You and to each other. Help us to know You and Your love -even when our families get separated.
We pray for the families of all who died in service to our country. We pray for their kids and spouses and families.
And we ask for protection. Please dress us in Your armor against evil. And grant us victory, peace, and hope in You. Please protect us in battle -be it on the frontline or the home front- and help us to serve You as faithful soldiers of Jesus Christ. We welcome You in our hearts, our homes, and our battlefields.
In Jesus' Name,
Amen.
*Please join our regular prayer group and submit the first name of a soldier you love so that we can add him/her to the prayer list. We pray regularly at
www.PrayingPals.org
or on
Facebook at Praying Pals
.
Soldiers give so much. It's time fo rus to give back to them. Here are a few ways to show our heroes appreciation and support:
1. E-mail a veteran a note of thanks.
2. Visit a veteran- even if it's brief.
3. Call just to thank them.
4. Grant a wish. Wounded Soldier's Wish raises funds to grant the wishes of injured military in all branches realize their dreams. No wish is too big or too small. Check it out
here
.
5. Send a card - one card and stamp could be... priceless! Send one to a hero you know or write one and send it to A Million Thanks
here
. Also, it you live in a small town, often the local newspaper will print area the servicemen and women's addresses.
6. Send a care package to a serviceman or woman. See below for more details.
7. Offer a discount at your business or company to veterans with a military ID or veterans card.
8. Send a gift (i.e. candy, gift cards, a meal) to a veteran to show your thanks. Or, give a copy of our album,
In God We Still Trust
. :) It was recorded in part to honor veterans.
9. Reach out to military families and ask them ways that you can help.
10. Plan a welcome home party for our heroes when they come home.
How to Send a Military Care Package
Show your support and appreciate to our servicemen and women and send a care package. It means so much to them to receive something from home. So, get busy and reach out to a hero today. Make it a family project. Here are some tips to send a care package:
1. Shop for items to go in the care package. Include a variety of items such as nonperishable food and snacks like sunflower seeds, beef jerky, hard candy, gum and snack crackers. Useful items like toothpaste, hand lotion, wet wipes, hand sanitizer, shampoo, chap stick, and bath soap are always appreciated. Also include CDs, DVDs, magazines, small games, note pads and pens. If you are preparing a care package for a loved one, include photos, family videos, hand written letters and copies of the local newspaper.
2. Follow the restrictions established for military care packages. Do not send perishable foods or candies that melt. Alcohol, firearms, and any time of weapon are not allowed in care packages. Do not send any product that may be considered harmful such as an aerosol spray can.
3. Use the guidelines established for the care package itself. The package cannot weigh more than 70 pounds. The box or container that is sent must be no more than 130 inches total combined girth and length. The completed care package needs to be sent by way of the United States Postal System by "Priority Mail." If not sent by Priority Mail, the package will take 8 weeks or even longer if mailed during the holiday mailing period.
4. Be sure that you have the correct military address to mail your care package because the package will pass through the Military Post Office (MPO) to be processed to the correct military base or location.
5. Work together with military families in the same unit as your loved one to make sure that all the members of the unit have care packages arriving from home. Ask the home front commanding officer or the assigned contact to stay updated about the military unit's location. Talk to organizations in your community about doing service projects for various military units that may not have a lot of home front support.
We give tribute to our military, past and present:
The American Revolution 1775-1783
The Indian Wars
1775-1890
Shay's Rebellion
1786-1787
The Whiskey Rebellion 1794
Quasi-War With France 1798-1800
Fries's Rebellion
1799
The Barbary Wars
1800-1815
The War of 1812
1812-1815
Mexican-American War 1846-1848
U.S. Slave Rebellions 1800-1865
"Bleeding Kansas"
1855-1860
Brown's Raid on Harper's Ferry - 1859
United States Civil War 1861-1865
U.S. Intervention in Hawaiian Revolution -1893
The Spanish-American War - 1898
U.S. Intervention in Samoan Civil War
1898-1899
U.S.-Philippine War
1899-1902
Boxer Rebellion - 1900
The Moro Wars
1901-1913
U.S. Intervention in Panamanian Revolution 1903
The Banana Wars
1909-1933
U.S. Occupation of Vera Cruz - 1914
Pershing's Raid Into Mexico - 1916-1917
World War I - 1914-1918
Allied Intervention in Russian Civil War
1919-1921
World War II - 1941-1945
The Cold War - 1945-1991
The Korean War
1950-1953
Vietnam War - 1956-1975
U.S. Intervention in Lebanon - 1958
Dominican Intervention 1965
Iranian Hostage Rescue 1980 (April 25)
U.S. Libya Conflict
1981, 1986
U.S. Intervention in Lebanon - 1982-1984
U.S. Invasion of Grenada 1983
"Operation Earnest Will" 1987-1988
U.S. Invasion of Panama 1989
Second Persian Gulf War "Operation Desert Storm" 1991
"No-Fly Zone" War
1991-2003
U.S. Intervention in Somalia - 1992-1994
NATO Intervention in Bosnia (Operation Deliberate Force) Summary - 1994-1995
U.S. Occupation of Haiti 1994
U.S. Embassy bombings and strikes on Afghanistan and Sudan (The bin Laden War) - August, 1998
"Desert Fox" Campaign (part of U.S./Iraq Conflict) December, 1998
Kosovo War - 1999
Attack on the USS Cole October 12, 2000
Attack on the World Trade Center and the Pentagon September 11, 2001
Afghanistan War (Operation Enduring Freedom)
October 7, 2001-Present
"Operation Iraqi Freedom" March 19, 2003-2011