The Truth About Posttraumatic Stress
Not all battle wounds are visible. Posttraumatic stress can develop after a person experiences a traumatic event such as combat. Posttraumatic stress does not mean someone is "going crazy." Rather, it is a physical reaction of the brain to trauma.
Approximately 22 veterans lose their battle to posttraumatic stress every single day. Think about it: That is approximately one veteran every 65 minutes. This should pull hard on all of our heartstrings. Each of us must do something to change this statistic. We must reach out with resources for heroes and their families!
We are so passionate about reaching out to our nation's heroes and their courageous families as they battle posttraumatic stress. We are so passionate about this issue, so we are doing a two-part series about it this summer. This edition is Part One.
In this edition, you'll find resources on how to get help for those facing posttraumatic stress that you or your loved ones can utilize. You'll also find an article by military veteran U.S. Senator Joni Ernst called For Many of Our Veterans, Sacrifice Lasts a Lifetime. This edition also includes our latest July interviews on thanking our nation's heroes and bringing awareness to posttraumatic stress.
We need to reach out and do all we can to stand with our nation's heroes. We need to show them support, stand with them in love and prayer, and let them know they are not alone. We all can experience healing and hope through Jesus Christ. It's time for each of us to share that hope, love, and genuine help with our heroes. After all, each hero is irreplaceable.
God bless you,
Carrie Stoelting and Stacie Stoelting Hudzinski
Sisters and founders of Unite the USA
"We remember those who were called upon to give all a person can give, and we remember those who were prepared to make that sacrifice if it were demanded of them in the line of duty, though it never was. Most of all, we remember the devotion and gallantry with which all of them ennobled their nation as they became champions of a noble cause." -President Ronald Reagan
Unite the USA's
Featured Veteran of the Month: Clarence Sasser
Clarence Sasser, Medal of Honor, Vietnam War
Carrie and Stacie on National Report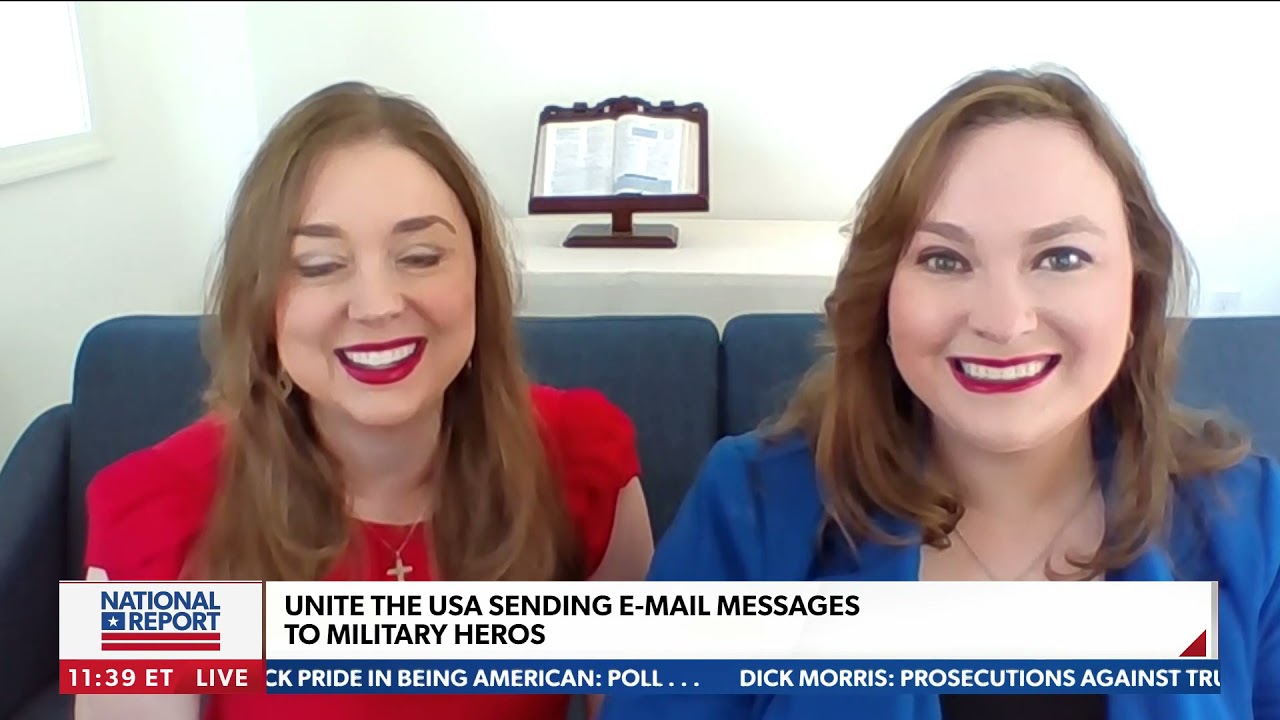 Stacie and Carrie recently shared on National Report on Newsmax. Bob Sellers interviewed the sisters about their outreach for veterans and how we all can make a difference.
American Family Radio Interviews Stacie
Stacie was recently interviewed on Today's Issue on American Family Radio. Listen to Stacie share about how we all can honor our nation's heroes.
For Many of Our Veterans, Sacrifice Lasts a Lifetime
By U.S. Senator Joni Ernst
For many of our veterans, sacrifice lasts a lifetime. The men and women who have worn our nation's uniform made the commitment to keep our country safe, and many have paid a price to do so. When they return from service, we must make the same commitment to them.
I served as a company commander in Iraq and Kuwait. I had my boots on the ground and was entrusted to lead 150 men and women during Operation Iraqi Freedom. As I experienced firsthand, our servicemembers put themselves in harm's way to protect our homeland. That is why, when our heroes come home, like the selfless men and women I served alongside in the Middle East, we must make sure they get the help and resources they need.
Some of the most serious wounds our veterans suffer from might not even be visible to the average person. Tragically, we lose veterans to suicide every day. One of the most challenging issues that so many face is post-traumatic stress disorder –or PTSD. It is a condition some of our nation's men and women deal with long after then come home from service and in some cases on a daily basis.
We must do more for those who protect our freedom. That is why I am fighting to improve mental healthcare for veterans by giving them access to non-government care when needed, expanding research in mental health, and pushing the Department of Veterans Affairs (VA) to hire more mental health professionals.
Additionally, when a VA report showed an increase in suicides among female veterans, I worked with Democrats and Republicans on an effort to provide critical mental health and suicide prevention resources for our women in uniform. Today, the Female Veterans Suicide Prevention Act is now law, helping to better track the data on suicide and identify programs and efforts that are successful in prevention.
Let us focus on the important work that needs to be done. And, let us come together in communities across the country to make sure our veterans receive support.
As a mother and a veterans, I will never stop fighting for our nation's heroes and the critical care they deserve, especially when it comes to mental health. We, as a grateful nation, must make our veterans have the support they need after so selflessly sacrificing for us.
Resources to Help with Post Traumatic Stress
In this first part of a two-part series on PTS, we want to give you a heads up on a resource on which we will focus in the next edition. It's called REBOOT Recovery.
Here's a summary from its web site,
www.rebootrecovery.com/military
.
"There is life after trauma. For many service members, the war doesn't end when the deployment is over. Staggering divorce rates, rampant substance abuse and alcoholism, rising instances of assault and domestic violence, and far too many suicides point to an unrelenting battle against an unseen enemy being waged by military families everywhere. Perhaps it's all too real for you or a loved one.
"We get it – if you've tried therapies or taken medications but you're still struggling, you may be skeptical of yet another "solution." But REBOOT approaches trauma from a different angle. If your mind and body can be wounded, doesn't it stand to reason that your soul can be wounded, as well? What if that's the ingredient that's been missing in your healing? As one soldier put it... "The hospital fixed my body, but REBOOT fixed my soul. REBOOT sought out and rescued the man I once was."
"Trauma changes you, no question. But how it changes you is partially determined by the choices you make after the trauma occurs. We can't promise that REBOOT will magically make your symptoms disappear. But what we can do is help you take productive steps toward a life of freedom and purpose in spite of your trauma.
"Since 2011, REBOOT Combat Recovery has helped thousands of military families achieve breakthrough in their war against trauma. Now it's your turn. It may seem impossible, but in only 12 weeks, you can push back against the darkness and begin walking down a proven path of healing. Joining a REBOOT course is a choice that could change your life forever. Make the choice and begin your healing journey today."
Additional resources that offer support to those experiencing post traumatic stress include:
The Complete Guide to Crisis & Trauma Counseling
Puppy Jake Foundation
The Combat Trauma Healing Manual
When War Comes Home
The Impact of PTSD on Military Families
Point Man Ministries
CRU Military
New Challenges, New Normal
Find a counselor through the AACC
here
.
Request prayer support at
www.prayingpals.org
.
"Let us then approach God's throne of grace with confidence, so that we may receive mercy and find grace to help us in our time of need." -Hebrews 4:16
Stacie Interviewed on The David Webb Show
Stacie recently shared a heartfelt message to our veterans on The David Webb Show on SiriusXM Patriot Ch. 125.
Carrie Stoelting Interviewed on KPTH
Carrie appreciated the opportunity to share on KPTH. Reporter Vivian Rennie briefly interviewed Carrie Stoelting about the tragedy that approximately 22 veterans commit suicide every day. (This was at an event she attended where Senators Chuck Grassley and Tom Cotton did the 22 push up challenge to raise awareness for the 22 veterans lost every day.)