Christmas 2020: Christ Still Reigns
"Do not be overcome and conquered by evil,
but overcome evil with good." -Romans 12:21
2020 has included a lot of challenges. Yet it has also included blessings. Mainly, it has pointed to the fact that this world needs a Savior. And His Name is Jesus Christ. Here's an excerpt from one of Stacie's devotionals:
When we know Jesus, we know that, no matter what we're going through, we're going *through* it. We're not staying in it. Most important of all, He is with us as we go through it and gives us everything we need as we do it through His strength. And so we can say with confidence, "I can do all things through Christ who strengthens me" (Phil. 4:13).
Hallelujah! Through Him, we can get through anything and experience comfort and joy. The journey to Bethlehem stands out as a vivid example of God's tremendous, miraculous ways to provide the Way when there seemed to be no way.
As we continue to reflect on this most memorable year, let us reflect His love and light to those dwelling in darkness.
God bless you,
Carrie and Stacie
Sisters and Founders of Unite the USA
"For to us a child is born, to us a son is given, and the government will be on his shoulders. And he will be called Wonderful Counselor, Mighty God, Everlasting Father, Prince of Peace."
Isaiah 9:6
"The story of redemption begins in Bethlehem when God became flesh, when Christ came to be one of us, to join into the humanity experience, and ultimately in his humaneness, go to the cross, not leaving anything of his divinity behind. And on that day outside of Jerusalem, God died in his Son's body so that you and I could be set free."
-Dr. David Jeremiah
National Media Tour for Stacie and Carrie
Stacie and Carrie are busy sharing about Operation Military Christmas on national media. Check out their interviews on FOX News and Newsmax.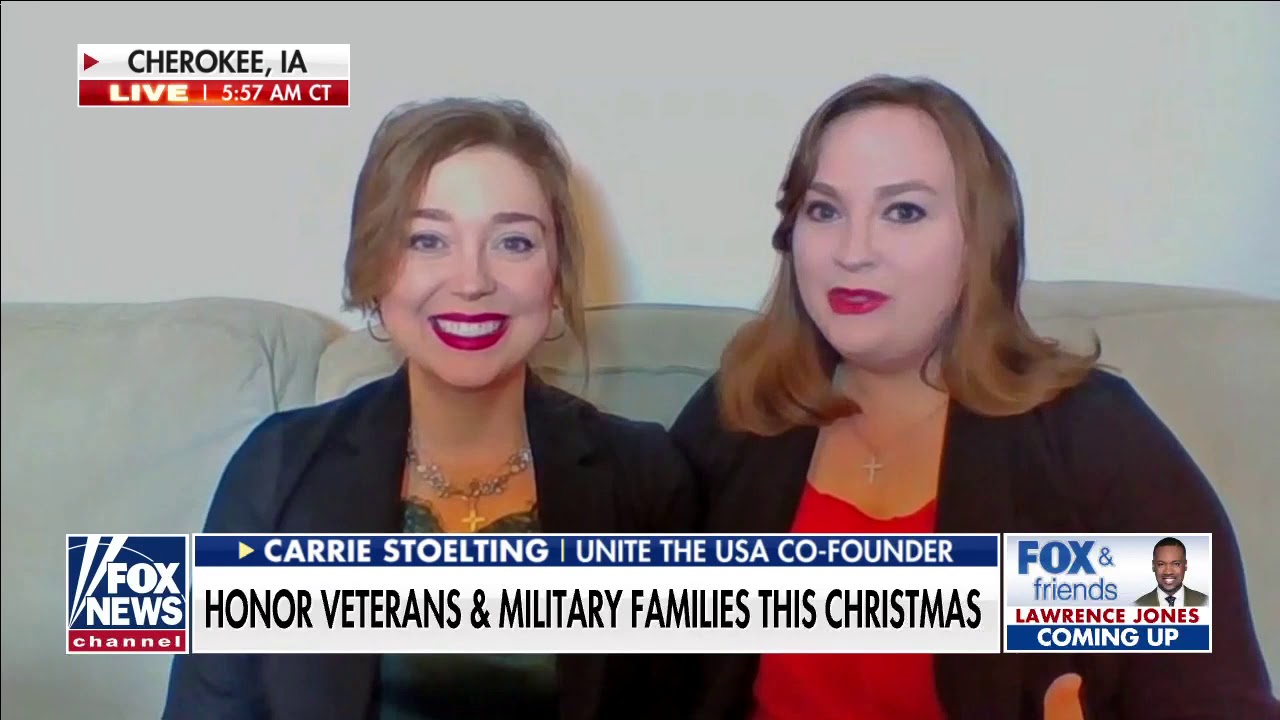 Click the link above for their latest interview on FOX & Friends.
Click the link above for their latest interview on Newsmax.
Christmas Virtual Parade for Heroes
Since COVID-19 cancelled parades across the country this year, we have created "virtual parades" to honor veterans instead. We are planning another virtual parade to honor our heroes this Christmas.
To be included in our next Virtual Parade of Heroes, please e-mail us the hero's name, picture, and service information December 23 to info@unitetheusa.org. The virtual parade will then be published sometime in December in an online musical video virtual parade and you will be notified of its publication by e-mail.
We appreciate being able to honor heroes. It means so much to us to have this opportunity to give credit where credit is due!
God bless you,
Carrie and Stacie
2020 Christmas Decorations at the White House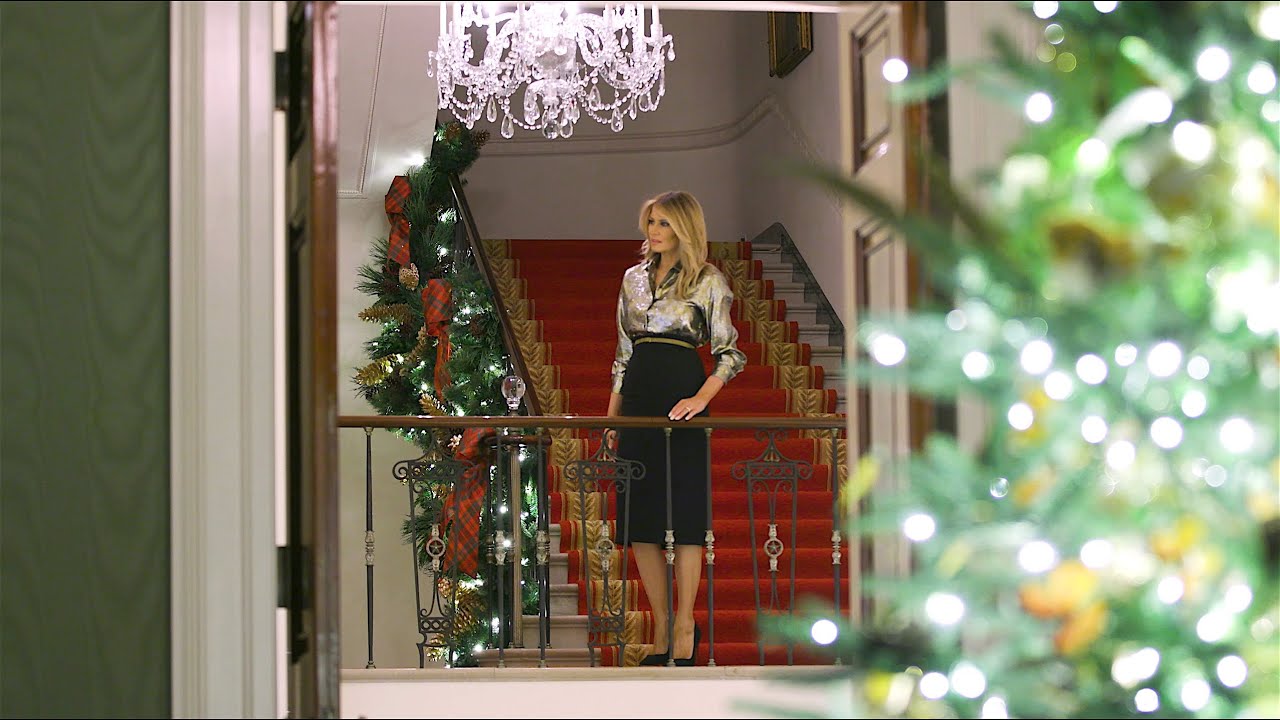 Unite the USA's
Featured Veteran of the Month: Robert Howard
Vietnam Medal of Honor Recipient
How to Bring Christmas to Our Military
At Christmas, we must help bring back the true meaning to our troops, veterans, and their families. Many families will not have loved ones -either because of serving abroad or the ultimate sacrifice of a loved one dying for our country.
So, let's all do our part for veterans, troops, and military families to feel loved this Christmas.
· Prepare a package: Send Christmas care packages to our troops. (Please see details below.)
· Contact nursing homes.
· Contact nursing homes and ask for a way to send a bouquet, a box of gifts, or have Christmas bedside table arrangements delivered in honor of all veterans or military widows/widowers in the home.
· Ask if there would be a way to send cards to all or even just one of them.
· Or just send an e-mail. If you have kids, include pictures of drawings by your kids to veterans or their widows/widowers.
· Order a meal for a military family. Military families sacrifice so much, too. If you know a family whose husband, wife, son, daughter, mom, or dad can't come home for Christmas, reach out to them. Do something to acknowledge them and offer your thanks and prayers.
· Order pillows for servicemen and women. Our servicemen and women do without many comforts so that we can live in freedom and peace. For example, did you that when troops are deployed they don't have a pillow to rest on? You can change that through Project Pillows. Click here to learn how you can help. It's easy and so helpful.
· Send something to someone currently serving.
· Send old-fashioned Christmas cards that could add a splash of Christmas color to military quarters.
· Or, send acceptable Christmas decorations.
· Write e-mails and attach files that include photos to print off and use for décor. If anything, it will be a day brightener for the recipient.
· Offer to help schedule a Skype call to bring a friendly face from back home into his/her life at Christmas. Not all military families have the technology to Skype with their loved ones in the military. Loan your smartphone or laptop for a specified time so they can Skype with their loved one over Christmas. Now that would be an incredible gift!
· Keep a gift card in your purse or wallet. That way you are ready to encourage a veteran on a moment's notice.
· Keep your eyes open. If you see a need, put some thought into what you can do to help. It's amazing how a small gesture of thoughtfulness can mean so much.
Together we can make a difference. We urge you to do something this Christmas season to support and pray for our heroes and their families. America, now is the time to unite and stand with our military. We need them...but they also need us.
Christmas at the White House
Betty Ford's Double Chocolate Cookies
(Makes approximately 20 cookies)
Ingredients
1 cup of butter, softened (see footnote)
1 3/4 cups granulated sugar (see footnote)
2 eggs
2 tsp. vanilla or brandy
1 oz. unsweetened baking chocolate, melted
1/4 cup sour cream
2 cups flour
3/4 cup cocoa
1/2 tsp. baking soda
1/2 tsp. salt (omit if using salted nuts)
1/4 tsp. baking powder
2 cups white chocolate chips (or butterscotch)
1 cup chopped Brazil nuts or almonds
Directions
Pre-heat the oven to 350 degrees Fahrenheit. In a mixer, beat together the butter and sugar until light and fluffy. Add the eggs one at a time, and beat well. Add the brandy or vanilla. Stir in the melted chocolate and the sour cream. (You can melt the chocolate in the microwave, but do this gradually, because baking chocolate can easily scorch. Microwave it one minute, then in 30-second intervals. As soon as the chocolate has lost its solid shape, take it out and stir it until smooth.)
In a separate bowl, combine the dry ingredients. Mix them all together with a fork, and then a spoon. Turn the mixer back on at a low speed, and add the dry ingredients, about a cup at a time. Incorporate everything thoroughly.
Stir in the chocolate chips and the nuts. Drop dough by tablespoonfuls onto cookie sheets. (You can use ungreased cookie sheets, or line them with parchment paper. I prefer parchment because I found the cookies would sometimes stick to the ungreased cookie sheets, but the cookies can dry out a little with parchment, making them more like a biscotti, so for a gooey cookie, bake them at the lower end of the time scale.)
Bake for 12-15 minutes. Twelve minutes is enough for a softer cookie; 15 minutes gives you a firmer cookie. These cookies do not spread on the baking sheet, and because they're so rich, the smaller size seems just right. Let the cookies rest on the cookie sheet for five minutes before you move them to wire racks or towel paper to finish cooling.
Jackie Kennedy's Beef Stroganoff
Ingredients
2 pounds boneless beef sirloin
salt and ground black pepper, to taste
3 tablespoons all-purpose flour
4 tablespoons butter, divided
2 cups beef broth
1/2 cup sour cream
3 tablespoons tomato juice or paste
1/4 cup grated onion
fresh mushrooms, sliced, optional
Directions
Cut beef into strips. Season beef generously with salt and pepper. Cover and let stand 2 hours in cool place.
In large skillet, whisk flour and 3 tablespoons butter over low heat until mixture bubbles and forms a smooth paste. Slowly add beef broth, stirring constantly until mixture thickens. Let boil 2 minutes.
Reduce heat and add sour cream alternately with tomato juice, still whisking. Simmer slightly 1 minute; do not let boil.
In separate skillet, quickly brown beef and onion in remaining 1 tablespoon butter over medium heat. Add contents of meat pan to sauce; season with salt and pepper. Simmer very gently or cook over hot water in double boiler 20 minutes.
Garnish with mushrooms when serving if desired.
Melania Trump's Star Cookies
(Tested size: 40-44 cookies)
Ingredients
2 cups flour
1/2 teaspoon baking soda
6 tablespoons (3/4 stick) unsalted butter, at room temperature
1 cup confectioners' sugar
2 large egg yolks plus 1 large egg white, preferably at room temperature
2 tablespoons sour cream
Directions
Combine flour and baking soda in a bowl or on a sheet of a waxed paper.
Combine the butter and sugar in the bowl of a stand mixer or handheld electric mixer; beat on medium speed until creamy and well incorporated. Stop to scrape down the bowl. Add the egg yolks and white one at a time, beating on medium speed after each addition, until smooth and well incorporated. Stop to scrape down the bowl.
On low speed, gradually beat in sour cream and the flour mixture, just until a soft dough forms with no trace of flour left. Divide in half.
Place one half between two sheets of parchment or waxed paper, rolling to an even thickness of 1/8 inch. Place on a baking sheet (with top and bottom papers) and refrigerate or freeze for at least 30 minutes, or until firm. Repeat with the remaining dough.
Preheat the oven to 350 degrees. Line a few baking sheets with parchment paper or a silicone liner.
Working quickly, remove the top sheet from one half of the chilled, rolled-out dough. Cut out as many stars as you can, transferring them to a baking sheet as you work (spacing the cookies 1 inch apart). Once the dough begins to soften and becomes hard to work with, pop it back in cold storage and use the second batch of firmed-up dough. Re-roll scraps, as needed. It's also helpful to chill the cutouts on baking sheets that await oven time; baking them straight from cold storage.
Bake (middle rack) one sheet at a time; turn the sheet front to back after 5 minutes. Bake for 2 to 3 minutes more, or until the stars are just beginning to brown on the edges. Watch closely; once the browning starts it goes fast.
Transfer the baking sheet to a wire rack; cool the cookies completely (on the sheet) before serving or storing.
Dolley Madison's Layer Cake
Ingredients
1 cup (2 sticks) unsalted butter, plus more for pans
8 large egg whites
2 1/2 cups sugar
1 cup milk
3 cups all-purpose flour
3/4 cup cornstarch
2 1/2 teaspoons pure vanilla extract
Caramel Icing
Directions
Preheat oven to 350 degrees. Butter four 8-by-2-inch round cake pans, set aside.
Beat egg whites in the bowl of an electric mixer fitted with the whisk attachment until stiff peaks form; set aside.
In the clean bowl of an electric mixer fitted with the paddle attachment, cream together butter and sugar. With the mixer running, slowly add milk; mix until well combined. Sift together flour and cornstarch; slowly add to mixer and beat until well combined. Add vanilla and mix well.
Gently fold in reserved egg whites and divide evenly between prepared pans. Bake until cake springs back when lightly touched, 30 to 35 minutes. Let cool in cake pans on wire racks, about 10 minutes. Remove from pans and let cool completely on wire racks.
Place 4 strips of parchment paper around perimeter of a serving plate or lazy Susan. Place the first layer on the cake plate. Pour over about 1/2 cup icing, spreading evenly to cover. Repeat process with 2 more layers. Repeat process with two more layers. Place the remaining layer on top of the third layer and cover cake completely with remaining icing.
Bess Truman's Ozark Pudding
Ingredients
1 egg
3/4 cup granulated sugar
2 tablespoons baking powder
1 and 1/4 teaspoons baking powder
1/8 teaspoon salt
1/2 cup chopped nuts
1/2 cup raw apples (finely chopped)
1 teaspoon vanilla extract
Directions
Preheat the over to 350.
Beat eggs and sugar until very smooth
Mix flour, baking powder, salt and stir into the sugar and egg mixture
Fold in apples, nuts, and vanilla
Bake in a buttered pie pan for 35 minutes
Cool to room temperature and serve with whipped cream or ice cream